This tour will visit Counties Cork, Kerry & Clare.
Tour price:
$2,900 per person sharing.
$3,300 single occupancy (limited availability).
Tour Leader
Cathy Jordan was born in Scramogue, County Roscommon, the youngest of seven children.
Her love for traditional singing and music in general was instilled at a young age and music and song was abundant in her house as she grew up. Her parents were both singers as were her siblings and Cathy herself had a repertoire at the age of three. Along side traditional music, Cathy was exposed to lots of other types of music from the vast collection of recordings found in her house that had been sent for relations in America.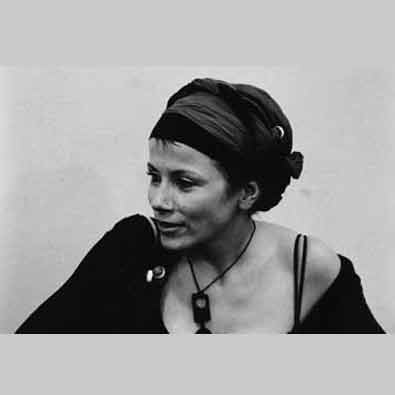 She began singing publicly at all kind of Feiseanna and concerts as a child and at secondary school got chosen for lead rolls in musical performances at her school in Laensboro Co Longford, she was Dorothy, in the Wizard of Oz, Ado Annie in Oklahoma and Eliza Doolittle in My Fair Lady. On weekends Cathy performed at a wide range of functions from christenings to weddings and played in numerous bands throughout the midlands winning The Longford Leader entertainer of the year in 1985. After finishing school in 1988 Cathy kept herself surrounded by music and worked as a radio DJ on two radio stations, Elphin Radio and Independent Radio Longford as well as playing numerous gigs at the weekends. She became a pastry chef in 1989 but it was always a means to an end and she could never give up on her first love, that of music. She is a self taught guitar, bodhran, bones and bouzouki player. In 1991 Cathy joined Sligo based traditional group Dervish and started her recording career with the Dervish album "Harmony Hill" to huge critical acclaim.
This saw Cathy returning to her roots of traditional music and song and sparked off a musical journey which has spanned over 2 decades. During that time Cathy has been the front woman and bodhran player with the group and has led them through thousands of concerts in hundreds of cities in nearly 40 countries. Some of the more memorable of these were playing at the Great Wall of China, the Wailing Wall in Jerusalem and at the biggest rock music festival in the world – Rock in Rio to over 250 thousand people. In 2000 Cathy had the honor of singing with the National Concert Orchestra as part of a show called 'Waves' composed by Charlie Lennon and conducted by Prionnsias O Duinn.
From 1991 to 2007 Cathy performed and co produced 7 Dervish albums –
Harmony Hill
Playing with Fire
At the end of the Day
Live in Palma
Midsummers night
Decade
Spirit
Healing heart
In 2007 Cathy and Dervish were asked to preform on the longest running radio show in the US – The prairie home Companion hosted by Garrison Keillor to and estimated 2 million listeners across America. From there they journed to China with Taoiseach at the time, Bertie Ahern, to represent Irish music and culture at a trade expo to enhance business relations between Ireland and China. Later that same year Cathy and the group released their eighth studio album, "Traveling Show" which saw them dip their toe very successfully into a more contemporary sound. For years Cathy collected her repertoire of songs from various sources, from old recordings, manuscripts and the traditional archives to older singers happy to pass on their songs to the next generation.
However folk songs can turn up in all sorts of places so for this album, with the help of producer John Reynolds, (well known for his production work on albums for Sinead O' Connor, Damien Dempsey, John Spillane etc), Cathy breathed new life to old Cher hit "Gypsies, Tramps and Thieves", a haunting Suzanne Vega track, "The Queen and the Soldier" and a brand new song from Canadian- based singer /songwriter, Dan Frechette, entitled "My Bride and I". Traveling Show also saw Cathy Jordan making her songwriting debut with two tracks "Lord Levett" and "Grainne" the latter a collaboration with Nashville songwriter Sharon Vaughn. Cathy has since co written songs with, Brendan Graham, Rosey and Susan Mc Keown and was commissioned by the Sligo Co Council to write a song for the Bealtine festival season 09 celebrating the contribution of the older generation in society. In the couple of years that followed as well as touring extensively throughout Europe, the US, Scandinavia, and Japan it also saw Cathy and the band accompany Ireland's president, Mary Mc Aleese, on official state missions to Latvia and Lithuania, to represent Irish culture to the business delegation assembled as well as politicians and state leaders of both countries. They also found the time to make a series of fourteen, hour- long radio shows for broadcast in conjunction with NPR in the US. These programs called 'Irish Heartbeat with Dervish', presented by Cathy and with Dervish as the house band, featured special live performances from the cream of Irish talent. Guests included, Brian Kennedy, Moya Brennan, Frankie Gavin, Seamus Begley, Martin O Connor, Rick Epping, Seamie O Dowd, The Saw Doctors, Kila, David Norris, Paddy Moloney, John Spillane and the Celtic Tenors, to name but a few. The programs are still being aired in Scotland, Ireland and America. This wasn't Cathy's only time in the role as presenter, she also presented the Irish language program Geantrai as a special tribute to the legendary Tommie Makem for TG4, as well as a special program from the Sligo Live Festival for RTE television.
In 2009 Cathy played and sang on a project called "Playing for Change" an organization who's self described goal is to "inspire, connect, and bring peace to the world through music". The creators of the project, Mark Johnson and Enzo Buono, traveled around the world to places such as New Orleans, Barcelona, South Africa, India, Nepal, the Middle East and Ireland. Using a mobile recording equipment, the duo recorded local musicians performing the same song, interpreted into their own style. Among the artists participating, or openly involved in the project, include Vusi Mahlasela, Louis Mhlanga, Clarence Bekker, Tal Ben Ari (Tula), Bono, Keb' Mo', David Broza, Manu Chao and Grandpa Elliott. 2010 marked Dervish's 21st year anniversary, and to celebrate the occasion they brought out the album "From Stage to Stage" featuring live concert footage from both sides of the atlantic with special guests, Ron Sexsmith, Duke Special, Vasen, Martin Hayes, Denis Cahill and Mike Marshall. The anniversary was also marked by four very special concerts to bring together musicians from different countries who had inspired and influenced Cathy and Dervish.
The first at the largest Celtic music festival in the world – Celtic Connections in Glasgow – featured duets with Cathy and Kate Rusby, and Moya Brennan as well as instrumental duets with – Mike McGoldrick, Martin Hayes, Kevin Burke and Sweden's Vasen. The second to a packed 3,500 seat dome at Shrewsbury folk festival also included duets, this time with Steve Knightly, Andy Irvine, Moya Brennan and Karen Matheson. The third, a sell out of The National Concert Hall Dublin, too saw memorable collaborations with the likes of Damien Dempsey, Martin Hayes and Denis Cahill and Triona Ni Dhomhnaill. The final of these celebratory concerts was at Christmas 2010 in Sligo to a massive hometown audience with special guests, Eddi Reader, Tom Baxter, Moya Brennan and Triona Ni Dhomhnaill, plus over 30 other guest singers dancers and musicians. Cathy also plays in a second group called The Unwanted, featuring long time friend and former Dervish member Seamie O Dowd as well as multi-instrumentalist Californian, Rick Epping. The group explores the connection between the music of Ireland and America and how generations of cross pollination has led to a whole new music which has its roots in both sides of the Atlantic.
Their debut, "Music From the Atlantic Fringe" was released in 2010 to great critical acclaim. That same year saw Cathy collaborating with Seville folk-rock power houses Rarefolk on a number of concerts as well as there most recent album. Cathy has a deep understanding of the Irish tradition and is regarded as one of the finest traditional singers in Ireland today.