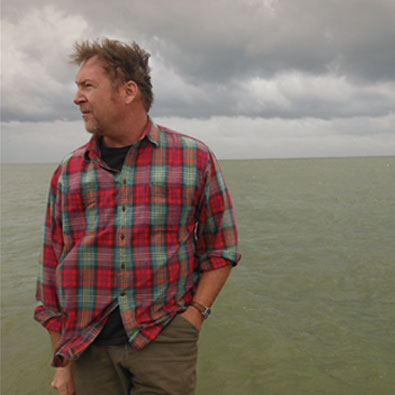 Tim Grimm is a bit of a Renaissance man in the performing arts world, forging a rich and varied career that blends his love of songwriting, travel, and acting in theatre, film and television. For most of his 25-year career as a storytelling balladeer in the tradition of John Prine, Woody Guthrie, and Bob Dylan, Tim has written primarily about community, history, family, and social issues – often framed by his strong sense of place and the many years he spent on the family farm he built in rural Indiana. His songs are filled with rural characters and landscapes, written and sung with vivid warmth and intimacy.  
Tim's new album, THE LITTLE IN-BETWEEN (March 2023), is an evocative evolution from his previous albums – and his most personal to date, written in three intense months during the winter of 2021-22. This album traces his travel between the hills of southern Indiana and the Oklahoma prairie – and his internal journey from a rich past to an unexpected future – using a first-person voice in every song to illuminate a deep inner territory that historically remained more submerged in his work. This fertile creative year also yielded forays into visual art, with Tim using pastels and charcoal to create striking folk-art style triptychs, pieces of which now form the visual art featured on the new album cover and booklet. 
Tim's second-newest album, GONE was the #1 album on folk radio for 2021, and its title song was released as a single in October of 2020 and ended up the #1 most played song on Folk radio for the year.
 After pursuing a degree in political science at Earlham College, Tim earned an MFA in Theatre at The University of Michigan and began working in professional regional theatre, settling in Chicago. There, in addition to his theatre work (with renowned companies like Steppenwolf, The Goodman, and others), he studied briefly at the Old Town School of Folk Music and began writing songs and performing them. And then, "Hollywood called", and Tim put down his guitar and pen, and didn't really pick them up for close to 10 years. After several years working as an actor in Los Angeles in the 1990s, where he co-starred for 2 seasons on the NBC drama Reasonable Doubts, worked on the film A Clear and Present Danger with Harrison Ford, and appeared in numerous other films and tv projects, Tim returned home to Indiana.  He grew up in the woods and small-town settings of southern Indiana, son of schoolteachers and grandson of farmers, and his return home was a conscious choice to live a life of significance rather than one of "success'.
 In 2001, Tim wrote the music for the stage play AMBER WAVES at Indiana Repertory Theatre with Jason Wilber of the John Prine band. In 2005, he was asked to compose music and act in a production of THE GRAPES OF WRATH at Indiana Repertory Theatre and Syracuse Stage in New York. In 2007, Tim put together a concept cd with several of the Midwest's finest songwriter's— Krista Detor, Carrie Newcomer, Tom Roznowski, and Michael White. That recording, WILDERNESS PLOTS (drawn from the short stories of noted author Scott Russell Sanders) explored the settling of the American Wilderness in the Ohio River Valley Region between The Revolutionary War and The Civil War. Two PBS programs have subsequently explored Wilderness Plots– the first, a documentary on the story and song, and the second a full Wilderness Plots-In Concert (2012). Produced by WTIU in Bloomington, IN, both productions were nominated for EMMY AWARDS. Tim continued to write songs based on Sander's writings and released the album WILDERNESS SONGS AND BAD MAN BALLADS in 2011. 
 In addition to his own yearly music tours in the Netherlands, Germany, and Italy, Tim has worked with Ireland's Inishfree Tours for many years, bringing Americans (and Dutch and Germans!) to the Emerald Isle for 9 days and nights of music and day trips exploring 3 select Counties. Guests who travelled with Tim encouraged him to lead groups elsewhere, which led to the creation of his company, Scotland Folk Tours (scotlandfolktours.com). Partnering with amazing Scottish guides, Scotland Folk Tours brings noted American folk musicians to lead tours of Scotland featuring delicious local meals, culture, beautiful scenery, and evenings of traditional live music. 
Tim currently splits his time between a 100-year-old cottage in Oklahoma (where he and his partner Alissa host a new house concert series called Red Dirt Folk Salon) and 50 acres of pristine Southern Indiana woods purchased by his father in 1971.